This project required me to think of a way to encourage more girls to play netball, whilst simultaneously attempting to destroy the misconceptions and stigmas surrounding the sport. My outcomes had to appeal to 14 – 19 year old girls living in London; including girls who have never played netball, girls who used to play, and girls who do play netball. 
I created a digital campaign in order to fulfil the requirements of the brief. A digital campaign is an ideal way to connect with a generation who are openly obsessed with social media. The campaign would be mainly centred around Instagram through the use of sponsored posts and an Instagram page. These posts would allow the target market to explore the campaign easily and on the go. In addition to this, to spread further awareness to the campaign, the advertisements would also be shown in the London Underground to capture the attention of the thousands of girls who pass through every day. 
This project challenged me to think creatively in order to fulfil the requirements of the brief. Throughout the duration of the project I became more familiar with how digital campaigns work and how to create designs that are both eye-catching and responsive so that the designs can be adapted and used in various locations and at various sizes.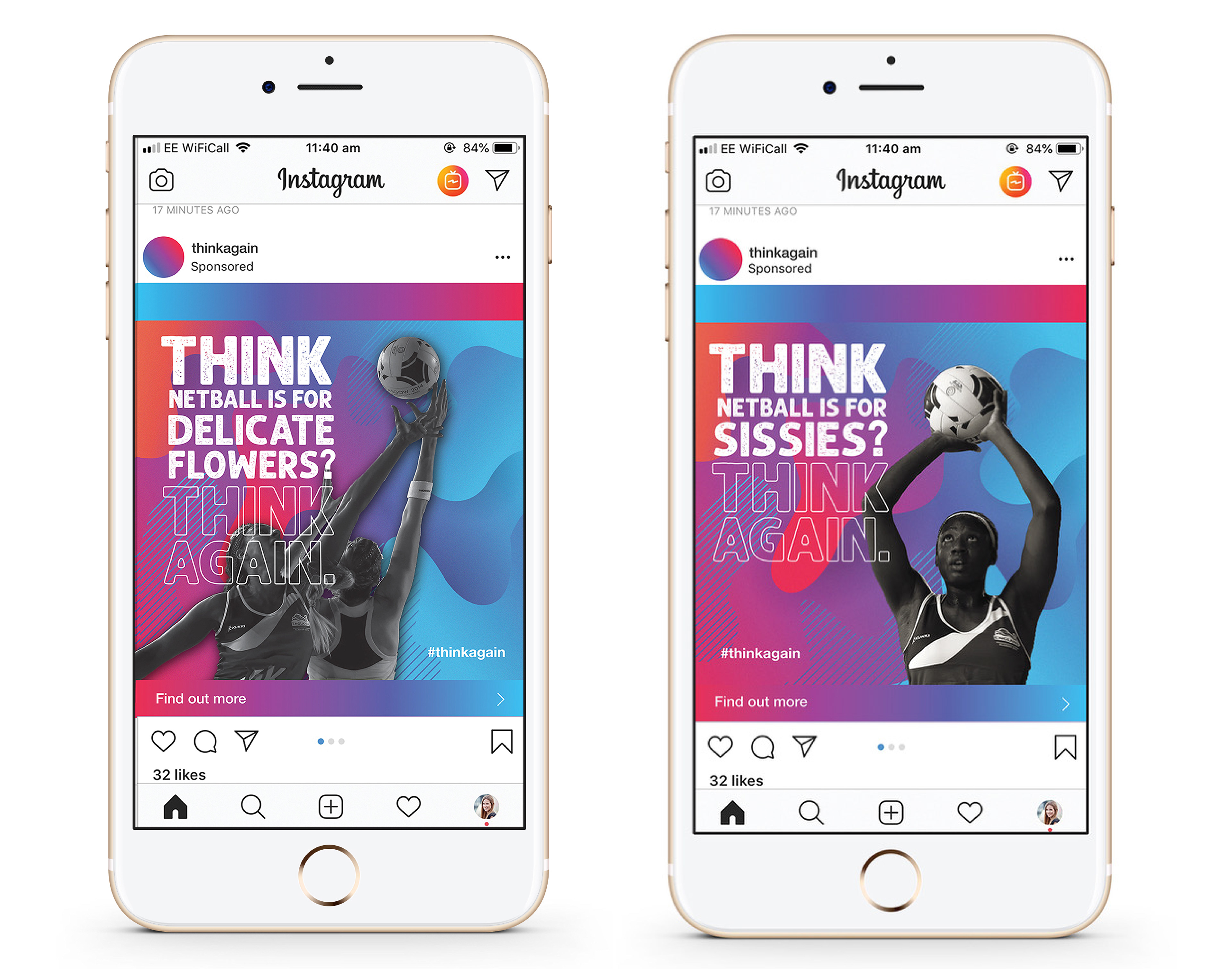 The design of the campaign aims to remove the stigmas surrounding netball by using copy that directly contradicts the powerful image used alongside it. The imagery used
deliberately
portrays netball players in powerful positions to encourage young girls to take up the sport. The campaign prompts viewers to 'think again' and to reconsider their potentially inaccurate views about netball. The colourful pattern used as a backdrop for the copy and imagery helps to capture the attention of those passing through the London Underground and the attention of those scrolling through Instagram. The combination of all these elements helps to create a striking and memorable campaign to help encourage more girls to play netball whilst simultaneously tackling misconceptions surrounding the sport.